Compassionate, High-Quality Emergency VeterinaryCare for Hattiesburg & Petal MS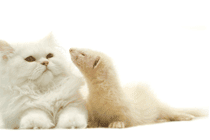 We've Moved!
Across Highway 98 from Merit Health Wesley (formerly Wesley Medical Center) behind the Goodyear Tire Store next door to Planet Gymnastics.
Emergency Vets is the clear choice for your after-hours emergency veterinary needs. We treat small animals including dogs and cats. If you own pocket pets, birds, or reptiles, please call ahead to assure we have a vet on site who can care for your pet. Open every night, weekends, and holidays, our veterinary hospital is the only one in the Hattiesburg area to have a veterinarian on site during all hours of operation. We believe that, in emergency situations, it is even more important that you and your pet have timely access to medical attention. Our 20+ veterinarians who staff Emergency Vets have specially designed the clinic with top-rated surgical, veterinary diagnostic, and monitoring equipment to assure that your pet will receive the best quality medical care and recovery possible. We maintain excellent relationships with our veterinary community so that, once your pet is ready to return to the care of your primary veterinarian, we can collaborate with him or her to assure seamless care for your pet. If we can be of assistance to you, please feel free to stop in or contact us at (601) 450-EVET.